Event Date: March 8, 2018, 6:30 pm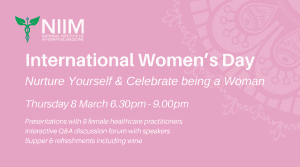 We invite you to join us for this special women only event to celebrate International Women's Day. Take this opportunity to nurture yourself and celebrate being a woman by listening to eight highly qualified female healthcare practitioners who will each be presenting on a relevant topic. The presentations will be followed by an interactive Q&A discussion forum with the speakers. We will also be serving supper and refreshments, including wine!
WHEN: Thursday 8 March 6.30pm – 9.00pm
COST: $30 per person
LOCATION:
NIIM Lecture Theatre
Level 3, 21 Burwood Rd, Hawthorm, Victoria 3122
Experience, Learn and Share…
Women's Health, Wisdom, Wellness, Lifestyle, Nutrition, Movement & much more!
Featuring:
Betty Zervas – M.C. Lawyer & NIIM Board of Directors
Dr Cate Dunlop B.A.Psych Stats Grad.Dip.Counselling.Psych Post.Grad.Dip.Hypnotic Science
Diversity of Relationships for Women of Today: Self, Others, Us
Dr Catherine Fyans MBBS
Mind-Body Medicine
A/Prof Vicki Kotsirilos AM MBBS FRACGP FACNEM FASLM
Helping the Body to Heal & Managing Pain
Dr Cheryl Martin MBChB BSc(Med.Sci Sports Medicine) FACEM
Posture, Presence & Female Empowerment: exploring the body-mind connection
Dr Tamara Nation MBBS FRACGP PhD
Sleep in the modern world
A/Prof Kylie O'Brien BSc(Optom) BAppSc(ChinMed) MPHPhD(ChinMed) Grad.Cert.Tert.Ed
Five Elements in Health
Dr Mary Stavropoulou MBBS FRACGP (Skin Cancer Doctor accredited by Skin Cancer College of Australasia)
Healthy Skin for a Healthy Life
Katherine Tsebelis B.App.Sci. (Physio) Dip.Professional Pilates
The Impact of Exercise: immediate and far-reaching
CONTACT DETAILS:
events@niim.com.au
LOCATION:
NIIM Lecture Theatre
Level 3, 21 Burwood Rd, Hawthorm, Victoria 3122
PUBLIC TRANSPORT
NIIM is approx 6kms from the CBD
Train: Hawthorn station is located across the road
Tram: Route 75 Stop 25 (St James Park) along
Burwood Rd, to/from the CBD
PARKING
Limited onsite parking is available at rear of the
venue. On-street parking is available in nearby
Streets. Paid parking is also available in multi-level
car park across the road at Epworth Hawthorn