Event Date: June 13, 2019, 6:30 pm
We invite you to join us for this fun, informative & inspirational special event
Includes:
Presentations with healthcare experts & motivational speakers
Interactive Q&A discussion forum
Supper including beer, wine & food
Each attendee will also receive a gift bag
Ladies are also welcome … please bring your partner, family, colleagues or friends!
WHEN: Thursday 13 June 6.30pm – 9.00pm
LOCATION:
NIIM Lecture Theatre
Level 3, 21 Burwood Rd, Hawthorm, Victoria 3122
Presented by: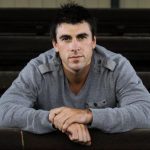 Heath Black
'Bounding back from rock bottom'
After leaving professional AFL football, Heath's life spiralled out of control. He was diagnosed with Bipolar II and Adult ADHD, but now has his life back on track. Heath decided to use his profile and experience to try and help other men who may suffer from mental conditions such as depression, anxiety, isolation and alcoholism – a powerful story!"
Dr Bernie Crimmins OAM MBBS Grad Dip H Nut MPH
GP, Author
'Bloke's Health'
Bernie has been a GP for 37 years. He graduated from Melbourne University in 1980 and did 2 years residency at St Vincent's Hospital before entering General Practice in 1982. He has completed extra nutritional study in doing a Graduate Diploma in Human Nutrition and Masters Degree in Public Health Nutrition from Deakin University. Bernie was Club Doctor at Hawthorn Football Club for 15 years and has written 2 books on Men's Health – 'Blokes' Health' 1&2. In 2016 he was awarded an OAM for services to General Medicine and Men's Health.
Prof Avni Sali AM MBBS PhD FRACS FACS FACNEM
NIIM Founder & Director
'Longevity for Men'
Founding Director of NIIM, and Member of the Scientific Board of the European Congress for Integrative Medicine. Avni is the former Head of Graduate School of Integrative Medicine, Swinburne University and the University of Melbourne Dept of Surgery, Heidelberg Hospital. He received an Order of Australia for "significant service to integrative medicine as an educator, clinician and researcher, and to professional education."
Dr Iggy Soosay MBBS FACNEM
Integrative GP
'How your gut microbiota shapes your behaviour – good & bad'
Iggy has been an Integrative Medical Practitioner for over 35 years. His practice focuses on gut-related illnesses. This encompasses the effect of the gut microbiota locally on the gut and its effects on illnesses far removed from the gut. The latter illnesses include autoimmune diseases like thyroid disease, anxiety/depression and non-specifics like fatigue, brain fog and early cognitive decline.
Dr Simon Sostaric PhD BAppSc AEP AES
Exercise Physiologist, Sport & Exercise Scientist
'Taking control of your destiny: Implications of physical activity on health & ageing'
Simon has over 25 years of global experience as a leading exercise physiologist in healthcare, sport, research, industry and education. He engages an integrated and pragmatic approach to understanding and managing complex human physiological needs; including individuals affected by life-changing chronic diseases – through to international athletes. Simon is the founder of Melbourne Sports & Allied Health Clinic.
Robert Gashi
MC
Member of NIIM Advisory Board. Robert is an experienced, agile leader and advisor – helping companies drive Customer Centric Digital Transformation. He is also a keen triathlete and scuba diver with a passion for the Environment, Health and Wellness.
Ladies are also welcome .. please feel free to bring your partners, friends, family or colleagues.
PUBLIC TRANSPORT
NIIM is approx 6kms from the CBD
Train: Hawthorn station is located across the road
Tram: Route 75 Stop 25 (St James Park) along Burwood Rd, to/from the CBD
PARKING
Limited onsite parking is available at rear of the venue. On-street parking is available in nearby Streets. Paid parking is also available in multi-level car park across the road at Epworth Hawthorn
BOOKING
Book online via trybooking below