BSc,  Grad Dip App Sci PhD,  Certificate IV in Property Services (Real Estate),
Diploma of Security and Risk Management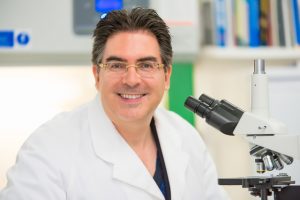 Cameron is a microbiologist/mycologist who specialises in the study of indoor air quality, water damage and mould in the built environment. His PhD from Swinburne University of Technology was in the use of image analysis to describe fungal cell shape, which began with automated routines to count fungal spores. Post graduateresearch in the Centre for Mathematical Modelling as a Chancellery Research Fellow extended his use of data processing in biological systems. After leaving Swinburne, he set up Biological Health Services which is an independent laboratory and environmental health consultancy that provides indoor air quality and mould inspections and assessments.
He consults widely to the residential and commercial real estate and insurance sectors in all aspects of microbial pathogens inside buildings. This field is termed building biology and his lab has performed and/or written over 2500+ reports for homeowners, tenants, insurers and staff who are concerned they may have become exposed to mould, spores or mycotoxins. He is a sought after expert witness in mould and water damage and enjoys the applied science foundation that can be brought to the legal process. His special interests are in public health, infection control and mycology.
Published research at: https://www.drcameronjones.com
Consultancy at: https://www.biologicalhealthservices.com.au