Event Date: November 25, 2022, 9:00 am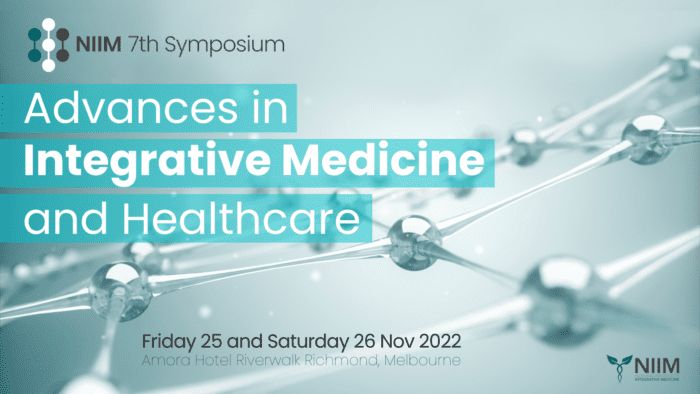 Amora Hotel Riverwalk, Richmond, Melbourne
After a hiatus of 2 years due to COVID restrictions, NIIM will be hosting our 7th annual symposium at the Amora Hotel Riverwalk, Richmond, Melbourne.
NIIM will work in collaboration with other organisations, educational institutions, universities and research partners for this educational and highly informative event, an integral part of the training calendar for all clinicians.
Who should attend?
GPs
Medical Specialists
Allied and Complementary Health Professionals
Pharmacists
Psychologists
Nurses
Researchers
Academics
Healthcare Students and others involved in the healthcare industry.
The content and focus of sessions will present the latest evidence, practical experience, and wisdom on a wide variety of topics.
Our extensive program will review and discuss the diverse challenges and opportunities facing various streams of Integrative Medicine, innovative therapies and treatments for the prevention, detection, and treatment of disease.
Working together with a network of national and international partners, NIIM is dedicated to establishing a strong evidence-base for effective healthcare treatments and technologies.
These innovations increase diagnostic screening and treatment options for patients with chronic illnesses and can significantly improve patient outcomes.
KEY THEMES of the 2022 NIIM Symposium
Cancer: Prevention, Care & Management
Cognition, Memory & Gut-Brain Axis
Cardio Metabolic Health
Environmental Medicine
Immune Dysfunction
Mental Health
The format of the Symposium
Through the 2 day event, there will be a number of ways to learn more about latest updates in Integrative Medicine.
Keynote lectures with highly qualified medical professionals from Australia and overseas
Interactive Workshops
Panel discussions
Facilitated Forum Discussions
Q&A Sessions
Scientific Abstracts
Objectives – The Symposium will provide
· Medical practitioners, allied health professionals, and other healthcare practitioners with an opportunity to learn and update their professional knowledge
· Access to the latest evidence-based research and advances in this field
· Up-to-date knowledge of Integrative Medicine for specific conditions and ongoing wellness
· Practical skills that participants can readily apply in their professional and personal lives
· An environment in which all participants can re-charge, re-focus and return to their relevant disciplines with renewed energy and knowledge
· Effective networking with delegates and speakers from a wide range of backgrounds
· Opportunities to meet and discuss first hand with representatives of the leading healthcare companies and relevant industries
Program
A full program and itinerary will be added to this page as speakers are finalised.
Networking Opportunities
There will be six session breaks during the symposium program to allow for informal networking opportunities for all attendees.
Cocktail Reception – Friday 25 November
The Cocktail Reception is a special networking opportunity held in conjunction with the symposium. The Cocktail reception is open to all delegates, speakers and sponsors attending the symposium, to allow you to connect with a wide range of professional colleagues.
Sponsorship Opportunities.
There are several ways to partner with us during the Symposium and to support Integrative Medicine education.
For more information, email our events manager on events@niim.com.au