Founder and Director of NIIM
Member of the Order of Australia
MBBS  PhD  FRACS  FACS  FACNEM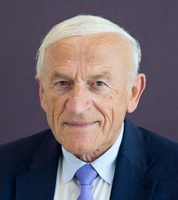 Professor Sali is President of the International Council of Integrative Medicine and Member of the Scientific Board of European Congress for Integrative Medicine. Formerly he was Head of the Graduate School of Integrative Medicine, Swinburne University; Head of University of Melbourne Dept of Surgery, Heidelberg Hospital and President of the Australasian Integrative Medicine Association.
As a highly sought after Integrative Medical expert, Professor Sali regularly contributes to a wide variety of publications in Australia and overseas. He is co-author of 'A guide to Evidence-Based Integrative and Complementary Medicine' published in 2011. Professor Sali is also on the editorial board of several medical journals and reviewer of articles for other health related publications.
His clinical expertise is treating complex and chronic diseases, particularly cancer. As a leader in his field and through his large body of work, he has inspired and led a new generation of doctors to the practice of Integrative
Medicine.
In 2016, Professor Sali was honoured as a Member of the Order of Australia (AM) for "significant service to integrative medicine as an educator, clinician and researcher, and to professional education."
For more information on Professor Sali please visit his institute biography.
Special Interests 
Chronic Illness: Cancer, Diabetes, Heart Disease, Neurological, Gastrointestinal
Autoimmune Diseases
Preventative Medicine
Mind-Body Medicine
Nutritional Medicine
Qualifications
MBBS
PhD Surgery
Fellow Royal Australian College of Surgeons
Fellow American College of Surgeons
Fellow Australasian College of Nutritional and Environmental Medicine
Memberships
Australian Medical Association (AMA)
Clinical Oncology Society of Australia (COSA)
Royal Australasian College of Surgeons (RACS)
Australasian IntegrativeMedicine Association (AIMA)
Australasian College of Nutritional and Environmental Medicine (ACNEM)
Australian Association of Musculoskeletal Medicine (AAMM)
Australian Association of Yoga Therapists (AAYT)
Clinical Appointments
Contact the rooms of Professor Sali: Level 3, 21 Burwood Rd, Hawthorn VIC 3122, T: 03 9455 2577 F 03 9455 2699
Consultation times, fees and bookings
For details on appointment availability and the schedule of fees please contact the NIIM Clinic Reception on (03) 9804 0646