Patient Information
Welcome to the NIIM HBOT Clinic – Located on Level 1. We would like to take this opportunity to welcome you to our practice and to thank you for choosing NIIM Clinic. We look forward to providing you with personalised, comprehensive care. This new patient information sheet will make your first visit a convenient, safe and pleasant experience.
Please do NOT wear:
Metal of any kind (jewellery, watches). A wedding ring is acceptable but will be taped over for the procedure.
Hair clips, dentures, hearing aids, hard contact lenses. (Soft elastics in the hair, soft contacts are acceptable).
Patients should take regular medications, such as insulin, heart & blood pressure tablets, but are unable to use medicinal patches.
Dangerous Items:
Hand warmers, chemical heat pads, nicotine or other patches, cigarettes and lighters are strictly prohibited. Due to risk of fire.
Mobile phones, hand held electronic games, anything with a battery is strictly prohibited, as these may cause a spark and result in a fire, destroying the item as well. A television is provided above the chamber.
Texta pens are prohibited as they will leak or burst under pressure – releasing ink.
Newspapers or magazines with the same type of paper are prohibited due to the fire risk.
Nothing with a sharp edge can be taken into the chamber as it may damage the cylinder itself.
You will have a container with your name to place your clothes and mobile phone in on the day.
Allowed Items:
Books, glossy magazines, notepad and pencil.
Water is allowed to be taken into the chamber – we will check the bottle first to ensure it will vent pressure.
Diabetes patients:
We will test your blood sugar prior to entering the chamber. Hyperbaric treatment may drop your blood sugar level, so it is wise to take some soft lollies into the chamber with you.
It is important that you eat prior to your scheduled visit. Please advise our team if you experience symptoms of low blood sugar or hypoglycemia.
Prior to each visit
We will check your blood pressure and examine your ears. If you have a cold, sinusitis, a runny nose or similar you will be unable to enter the chamber until it has resolved. This is because you will be unable to equalise pressure in your middle ear, and may burst an eardrum – a very painful result, which affects your hearing until it heals. You may also experience increased sinus pain.
If in doubt ask the nurse or chamber operator.
I have read and agree to abide by this checklist for the safety of myself and the clinic.
If you are on intense (triple treatment: HBOT, IV, HT) plan, we advise you to book all your appointments in advance for HBOT, IV Clinic and Hyperthermia. Please allow yourself to have a 30mins gap between your HBOT and IV Clinic appointment. This will allow you to get well hydrated and warm up for your IV infusion.
After Hours Services
Doctor Doctor 13 26 60 An Emergency Dept. 000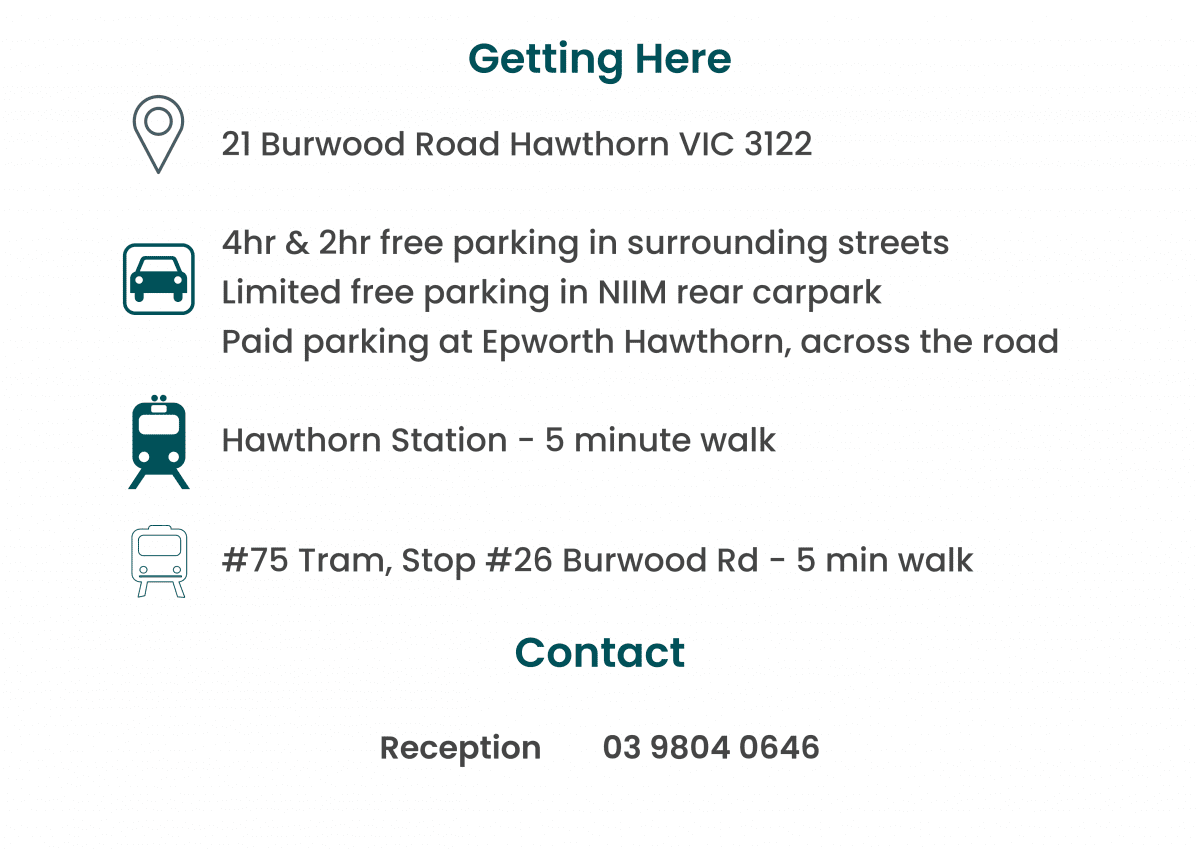 Terms and conditions for patients
We do not refund for change of mind, if you found it cheaper elsewhere, or if you simply don't like the treatment.

Payment is required to be made upfront.

Each course of treatment is valid for 6 months from date of purchase.

Treatments are not transferable to other individuals or patients.

We require at least 48 hours' notice to be given for any appointment date change or cancellation.

If you change or cancel your appointment within 48 hours of your appointment date, we reserve the right to apply a cancellation fee of 50% of the treatment cost.

If you do not attend a booked appointment, the full cost of treatment will be forfeited.

There is no refund for unused sessions unless there is a medical reason that the treatment is to be discontinued (Medical certificate required). We do not refund for change of mind.

See your regular GP as to your medical suitability for HBOT. Our clinical team will review feedback from your GP and advise if there are any contraindications that prevent you from receiving the treatment. Once our team have reviewed you will be contacted to make a booking. Payment for the course of treatment is required at the time of booking.

There is no refund for a partially used session.

A request for a refund by you must be made in writing and sent to clinic@niim.com.au for our consideration. The clinic may decide, upon review of your written request, whether a refund is approved.

In order for us to provide you an appropriate service, it is fundamental that you provide all information requested in consent forms or advise us of any factors that may affect your treatment.

Appointments are required to be confirmed, when requested to do so. Appointments that are not confirmed will be cancelled.