Congratulations to Professor Avni Sali, who in the Queen's Birthday 2016 honours list has been appointed a Member of the Order (AM) in the General Division of the Order of Australia.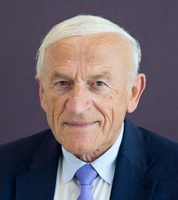 Professor Sali has been honoured for "significant service to integrative medicine as an educator, clinician and researcher, and to professional education." He is often referred to as the Father of Integrative Medicine in Australia. Professor Sali's lifelong work has been the tireless promotion of bringing evidence-based Integrative Medicine into the mainstream medical model – to become the medical paradigm of healthcare.
In December 2015 a book published about Professor Sali 'Visionary Man – Visionary Medicine' outlines his story as a pioneer of lifestyle-based approaches to health and wellbeing, the challenges he has encountered and the achievements in his quest for a new future for medicine. This is a fitting tribute to someone who has dedicated his life-long medical work to the practice, education and research of Integrative Medicine.