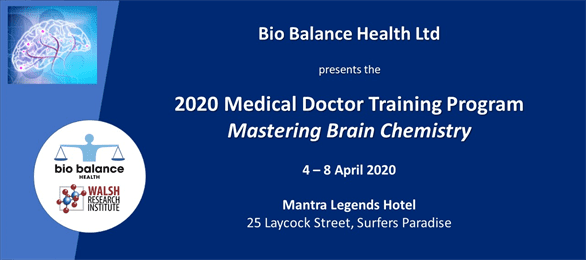 Organiser: Bio Balance Health Medical Doctor Training
Date and Time: 13/10/2019 7:00 pm
Venue: Mantra Legends Resort, Gold Coast
A training program for Medical Doctors, Mastering Brain Chemistry, is a 5 day intensive syllabus presenting the power of nutrients to improve neurotransmitter function. The program provides a greater understanding of the biochemical imbalances commonly associated with mental illness, which, when combined with current treatment options, improves patient outcomes.
Interactive sessions with experienced practitioners and live patient cases, allow you to see and learn, in real-time, the evaluation and diagnosis of patients with mental health and behavioural disorders.
For more information or to register: https://www.biobalance.org.au/annual-training/
General enquiries: (07) 5679 6675 or email info@biobalance.org.au