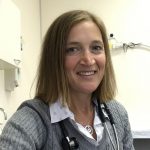 Integrative GP
MBBS  FRACGP

Dr Carolyn Bosak is a GP of over 20 years experience who takes an integrative, mind body approach to healthcare, tailored to your situation. She brings an evolutionary approach to modern healthcare, believing that many of today's common health issues (e.g. gut dysfunction, infertility, cancers) relate to our modern lifestyle, and that the answers are sometimes simpler than we think.
Carolyn deals with most issues of family healthcare, with particular interests in Women's Health, Paediatrics (she is herself a mother of 3, and very experienced in issues of children's health – she is on the Royal Children's Hospital list of recommended GPs), and Adolescent Health (particularly sought out for her straight-forward, matter-of-fact style).
Dr Bosak is now a CBD authorised prescriber and may prescribe this medication where clinical appropriate to patients over the age of 15.
Special interests:
Women's Health
Carolyn believes that instinct and intuition are as important as textbook knowledge when caring for women of today, bringing a wealth of experience in caring for females, at all stages of life.
With the changing landscape of Women's health issues over the past decade, Carolyn has familiarized herself with how to optimize health and minimize harm in a biopsychosocial environment that threatens to increasingly work against females.
Female Athletes and the effect of hormones:
An Ironman triathlete herself, with a long history in endurance sport, Carolyn holistically manages all levels of female athletes to optimize performance, particularly mindful of the effects of the hormones of the menstrual cycle, which she regularly holds seminars on.
Emotional Health:
Through Brief Psychological Interventions delivered with a frank and open manner, Carolyn will assist you in getting back on track. No topic is taboo, and no issue insurmountable.
Chronic Pain and related Psychosomatic conditions:
With all the advances in healthcare and lifestyle, it makes no sense that issues relating to chronic pain should be increasing – currently in the top 5 conditions for healthcare expenditure, and a projected increase behind only Dementia and cardiovascular conditions. Through a mind body approach, Carolyn helps you understand and overcome Chronic Pain, and related conditions.
Consultation times, fees and bookings
For details on appointment availability and the schedule of fees please contact the NIIM Clinic Reception on (03) 9804 0646